Epomaker | GK68XS Bluetooth Mechanical Keyboard
Updated: Jun 17
Wireless & Wired | Hot-Swappable Gateron or Cherry MX Switches | Bluetooth 5.1 | Customizable Space Bar | macOS, Windows, IOS, Android
With dual connectivity modes (wireless or wired) and both Windows and Mac layouts, the GK68XS is the ultimate match for any device setup.
It easily pairs with up to three devices at once to maximize productivity and ease of use.
The GK68 Space Key Module will provide you with endless customization.
Whether it's a single key or a split spacebar style to best fit your typing preference and feel, the GK68XS is here to take your gaming and daily work to the next level.
Designed for versatility, the GK68XS is available in two models: the GK68X and the GK68XS.
The GK68 is a perfect match for those who do not require a wireless setup. 
You can rest assured that your GK68XS is manufactured with the best and most reliable mechanical switches out there! 
The GK68XS is fully compatible with every operating system (OS) from Mac/iOS to Android and Windows, and you can easily switch between the different OS with just the flip of a switch.
The GK68XS features RGB lighting with 16.8 million LED colors, rhythm, and sound lighting combinations, with additional key-programming and macro-creation for three definable layers.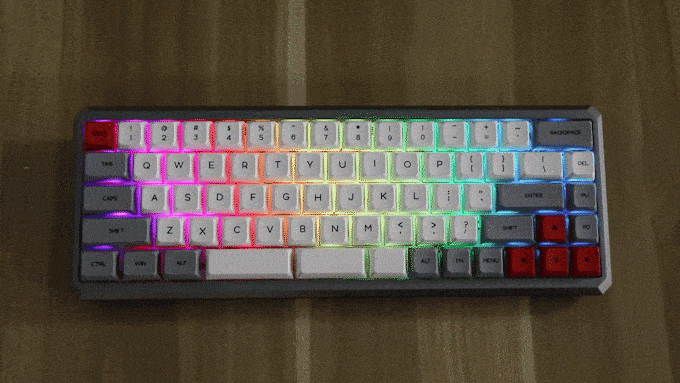 Fully customize your keyboard and feel the difference on the Epomaker