Galio | Ultimate Small & Powerful 120w GaN+SiC USB-C Charger
Updated: Mar 5
120w quick charges to 3 devices | 2 x Type-C + 1 x USB-A | Support all fast-charging protocols | Built-in foldable prongs & safeguards
Galio is developed to be the smallest charger on earth that delivers the maximum power possible through the use of the pioneering gallium nitride and silicon carbide (GaN+SiC) technology. In a package 15% smaller than the size of an Apple 96w USB-C power adapter, it pushes a full 120w of power which could charge a MacBook Pro, an iPad Pro and an iPhone 11 Pro all at full speed simultaneously.
It features built-in safeguards and supports all quick charging protocols to offer safer, faster charges to various models of laptops, tablets, phones, and more. Galio is the world's first Gallium Nitride and Silicon Carbide charger which provides a whopping 120W of power in the most compact package, 15% smaller yet 25% more powerful than Apple's latest 96W USB-C charger.
Galio features three USB ports that are able to fast charge three devices at the same time, 2 Type-C ports rated at 100W (20V/5A) max. and 1 standard USB port rated at 30W max.
When functioning individually, each Type-C port can charge a MacBook Pro 16" (at 96w super-fast charging) or a Samsung Galaxy Note 10+/S20 (at 45w super-fast charging) from the dead to full in just over an hour; the USB-A port can top an iPad Pro 11" off fully in about an hour.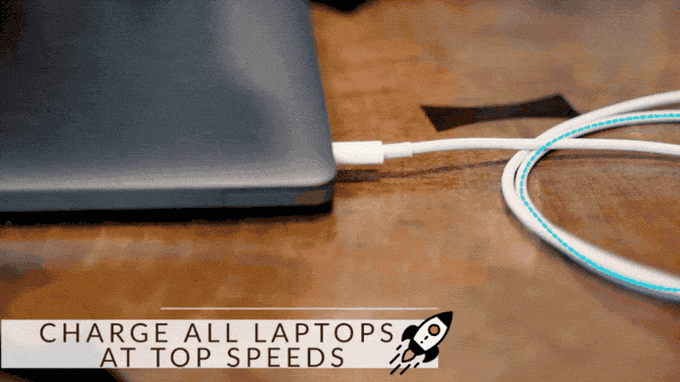 *As shown in the TEST VIDEO above, Galio is able to output 95.82W (19.19*4.993) with one Type-C port.  Note: because the ammeter has a voltage drop, that is, the loss of voltage and current, the data is slightly different from the data of the load meter. In addition, the charging power of the product will be different under different power conditions.