HUNU - The coffee cup that fits in your pocket.
A beautifully designed reusable cup that folds down small enough to fit in any pocket or bag.
"The unavoidable truth is that it simply isn't convenient for people on the run to remember their cup, carry it around, and wash it out between uses."  - FAST COMPANY
Most paper cups used in coffee shops contain a plastic lining meaning that less than 1% are ever recycled.
In fact 165 million of them end up in landfill EVERY DAY! A large number of these cups then end up in our oceans and waterways.
Coffee cups are also made with virgin paper meaning millions and millions of trees are cut down to manufacture all these cups every year.
It is Barista friendly fitting easily under an espresso machine and keeping everyone behind the counter happy :)
Once folded down the drinking hole is plugged to make it leakproof in your pocket.
The plastic lining also contains BPA's and a lot of other nasty chemicals that leach into your hot drinks and end up in your body.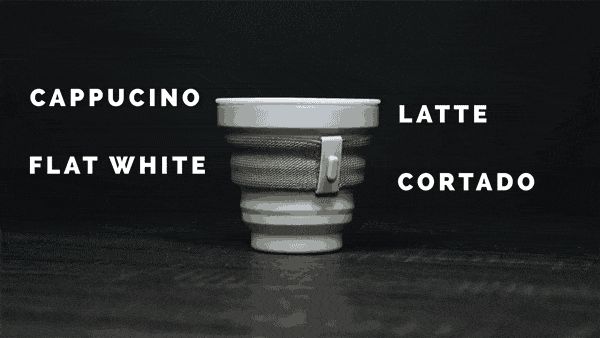 "We set about to create a cup that we could carry with us all day, everyday, as easily as our phone, wallet or keys. What we ended up with was the most convenient reusable cup out there"
The 8oz size is big enough to fit any barista standard sized coffee and still fold down to 2cm/0.75inch.
Over a year has been spent on the design and prototyping of the HUNU cup to make it the most convenient reusable option available.
Made with LFGB and FDA certified food grade silicone and bamboo. All materials are BPA free and fully non toxic. Created in London by an experienced design and engineering team. Beautifully designed to not only be practical but also something you are proud to be seen with.The 8oz/240ml size fits any standard barista sized coffee.Incredibly light, weighing less than 100g.The most portable cup out there, folding down to 2cm. Very easy to clean by hand or in a dishwasher.
When designing the HUNU cup we had a few non negotiable requirements. It had to be compact enough to comfortably carry around in a pocket all day. It had to be sturdy enough to safely hold a hot drink. It had to be made using the highest quality food grade materials. It had to look good and be light and durable.
We started from the bottom looking at every material we could, from metal to canvas (there were a few very strange looking early concepts!). Ultimately we couldn't find anything that compared to silicone. It is a highly durable, non toxic material that can withstand extreme temperatures and unlike plastics, doesn't leech toxic chemicals. It is made from sand which is an abundant natural resource. It is odor and stain resistant and very easy to clean. It is flexible enough to fold down easily but strong enough to form a sturdy, safe cup when unfolded.
The silicone we use is both LFGB and FDA certified meaning it meets the highest level of both USA and European certification.