K1 Smart Lock Box | Makes Any Door-entry Smart
Updated: Apr 17
Exchange keys remotely with your guests & keep essentials accessible to your family and friends.
YEEUU K1 is a smart lock box that features fingerprint, password, remote access and in-app management for any rental, condo, shop and family. It's the perfect key exchange solution that eliminates the need to copy extra keys or change locks. Protected by 128-bit encryption, K1 is the safest and most convenient way to provide keys and property access control.
NOTE: If you want to back our optional add-on (Shackle or Weather Cover) with your perk, you can add them after you choose the desired perk(If you are view on your phone, scroll down the page after you choose the perk).
Designed for AirBnB hosts, condo and property managers or homeowners, K1 is the perfect solution for complete property access. Now a convenient key exchange can happen remotely at any time, day or night without the need to be on-site. K1 provides a modern solution for hosts and a better experience for guests.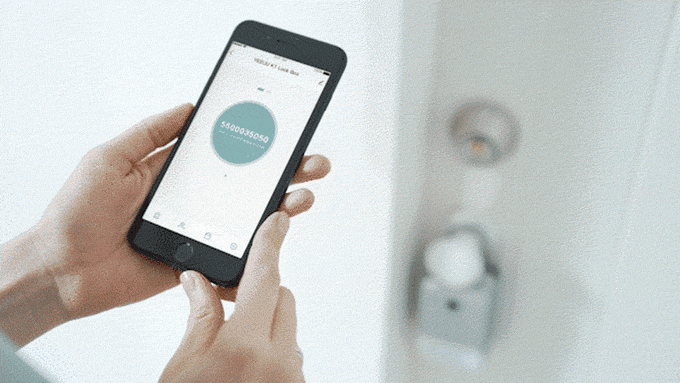 K1 has a Dynamic Password feature that a property owner can issue remotely via the app. Based on a smart time algorithm that is synchronized between the app and lock, the owner can generate and send the password to the guest that is valid for 5 minutes and allows them to open the lock box to access keys.
In some cases, a Temporary Password with a set time window is necessary, often for vacation rental guests or clients of realtors. Using Bluetooth, this feature allows the homeowner to set a temp password instantly and provide it to guests.
K1's in-app Grant Permission feature allows the owner to grant access permission to a guest with a set period of validity that allows them to access the lock box using their own phone for a certain time. This fully remote feature saves time for the owner and provides a convenient experience for the guest.
Other than the methods above, K1 also provides many other options for daily use at any property. It eliminates the need for extra keys for all family members and can prevent frustrating locked-out situations. With K1 smart lock box, you will never be locked out again and can enjoy safe, reliable access for employees, friends, and family members.
Unlocking by Fingerprint Access is fast, accurate and convenient. The K1 stores up to 50 fingerprints at a time and uses machine learning to continuously optimize for accuracy. The advanced fingerprint identifier provides access in less than 0.5 seconds with a failure rate of less than 1 in a million.
K1 can be programmed with a Permanent Password for trusted associates and family members for easy 24/7 access that prevents lock-outs and the need for multiple keys. It is the safest method of shared access that you can manage anytime in our app via Bluetooth, to instantly change or delete the password for safe control.