MOKiN | Extend your Screen Wirelessly
The First Ultra-low latency Wireless Display Transmitter with USB-C Hub
Have you ever encountered such troubles?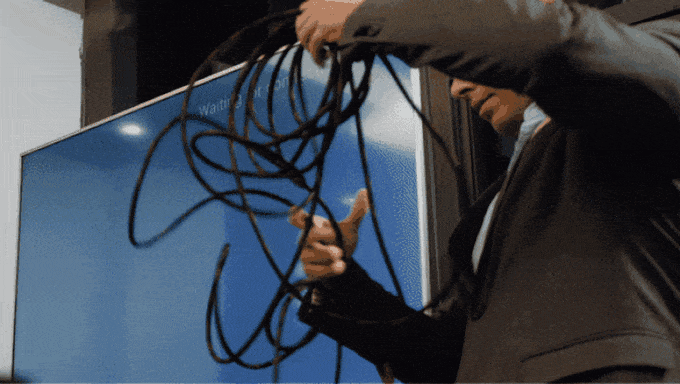 Have you considered going wireless without the need for any WIFI connection or the old school Bluetooth? No extra cables and no additional wire connections clearly mean no detangling of the wires before your big presentation or simply a good movie release, which you were waiting to watch all week.
MOKiN has introduced its very first Ultra-Latency Wireless Display Transmitter, which transmits data messages in real-time with minimum delay, unlike other wireless devices in the market. With wide compatibility and thoughtful power-saving design, MOKiN is a perfect constant companion to your USB-C devices.
Having its huge compatibility adds a plus point to the MOKiN Wireless Transmitter. It connects to all your USB-C devices (USB-C Data & Power Delivery, HDMI, MiniDP, microSD/SD, USB-A, Audio Jack), which is the future now. With so much in one device, your work or leisure time can never go wrong.
MOKiN Wireless Transmitter is like all under one roof, a one-stop solution for you to go completely wireless.
All your cool gadgets will now be accessible with MOKiN Wireless Transmitter. It also has a port for your mouse, printers, hard drives, keyboards, and your headphones, etc. Your MICRO SD Card connected keeps your plans in line with a much smoother delivery.
MOKiN slips into your bag or pocket effortlessly so you can take it anywhere. It enables important business conference, office routine meeting, multimedia campus education in school, home theatre entertainment take place anywhere anytime which outputs from your smartphone, tablet or Macbook laptop.
If your wireless connection is not smooth and is not displaying in real-time approximately, then the struggle is obvious. Previous wireless display transmitters had an 80ms latency (the speed delay at which the data messages get transmitted), but MOKiN Wireless Transmitter outdated them all. It has a much smoother display with around less than 50ms delay. The super low-latency makes the streaming smoother with no interruptions.
It can support 10-meter wireless transfer in a conference room, classroom and indoor without long HDMI and VGA cable. You can share PPT, mail, documents and other content wirelessly in a big meeting room. You can share teaching content with your students while walking around the classroom. You can also share photos, videos, movies wirelessly on television with your family.
More surprisingly, it can offers connectivity for two different ports at the same time- a screen with HDMI port and television with VGA port, for example. Wireless stream and mirror your mobile phone, iPad Pro 2018 or USB-C computers screen to your projector or TV screen. It supports various formats like video, photo, music, game, file, web browsing etc.
Just plug and play, begin your simultaneous mirroring. You don't need to download any app, don't need WIFI connection, no complicated settings, no maintenance issues. With your MOKiN, you can make your job easier while you're doing presentations or business meetings. You can also create a personal theatre without paying for extra box fee.
Wide compatibility and thoughtful power-saving design to make MOKiN a perfect constant companion to your USB-C devices. MOKiN matches with many MacBook and iPad devices. Plus: Virtually all other USB-C laptops, notebooks, and tablets can also enjoy the expansive experience provided by MOKiN.
(1)The highest resolution of HDMI is 1920X1080P / 60HZ, also supports 1080p / 23.98 / 24/50 / 59.94HZ, 1080i / 50 / 59.94 / 60HZ, 720p / 50 / 59.94 / 60HZ, etc.
(2)VGA maximum resolution is 1920X1080P / 60HZ, also supports 1080p / 23.98 / 24/50 / 59.94HZ, 1080i / 50 / 59.94 / 60HZ, 720p / 50 / 59.94 / 60HZ, etc.
(3)Support AUDIO output
(4)HDMI supports HDCP1.4
(1)WiFi supports 11ac dual frequency, protocol standard 802.11a / b / g / n / ac
(2)USB3.0A / F supports a maximum current of 0.9A and a maximum rate of 5Gbps
(3)Backward compatible with USB2.0 / 1.1
(4)Compliant with USB-C interface specification
(5)Support USB3.0 SD / TF card data storage and reading function