Mopoint | World's Smallest 65W GaN USB-C Charger
1/2 credit card size 65W charger, fast charges 3 devices: laptop, tablet, smartphone (2 x USB-C, 1 x USB-A) at the same time
1/2 credit card size Mopoint is the world's smallest 65W Gallium Nitride (GaN) charger that is 70% smaller than current traditional chargers.
With 65W, there is plenty of power to share around with 2 x USB-C (supporting Power Delivery 3.0) and 1 x USB-A (supporting Quick Charge 3.0) ports. 
The 65W power can quick charge a laptop (MacBook Pro), smartphone (iPhone), and mobile device (AirPods, Watch) all at the same time.
With 65W Dual USB-C Power Delivery, a single Mopoint charger can power 2 laptops simultaneously.
Takes up the same space as Airpods and you can easily fit Mopoint in any pocket anywhere.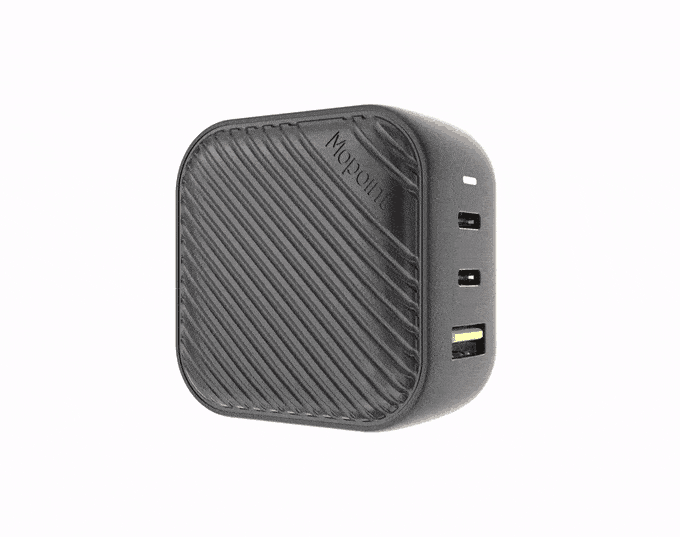 The Mopoint is designed as a powerful 65W charger. It's actually quite robust and works with almost USB-C devices. No need to mess with bulky power cables which can be bigger than the charge itself.
Powered by the Latest Gallium Nitride (GaN) Technology
Mopoint utilizes the industry-leading GaN Chip Innoscience INN650D02 Power IC to better power and performance. The new Gallium Nitride semiconductor material allows for power devices that can operate at higher voltages and switching frequency which results in smaller and more efficient chargers.