NEXX | Multifunctional Home Therapy Neck Device
Updated: Jul 30
Experience the ultimate neck pain relief. Dynamic Neck Traction, Heat, Electrotherapy Pulse Massage
Nexx is the world's first multifunctional traction device that helps you to relieve neck tension, improves flexibility and ranges of motion.
Most importantly Nexx is comfortable and Relaxing. 
Our users are so at-ease most fall asleep during treatment. 
Gently Extending the Neck 26 Degree Elevation Arch, it Helps to hydrate Discs, Increases BloodCirculationand Restores the natural Curve of the Neck.
The spine, neck, and back support us in our daily life. Any pain coming from it affects us more than we know.
Chronic back problems are bad for long term health.
When the neck & back lose their natural curved shape, the soft discs that are in between the vertebrae become compressed, & rich lubricating fluid is unable to penetrate & hydrate the discs. This causes premature aging in the form of stiff, dry joints.
Our Nexx Device counteracts that by lifting, stretching, decompressing, hydrating, & shaping the neck & back into its"vital" natural curved shape.
The Dual inflation mechanism gradually lifts also pulls and separates the joints.
NEXX simultaneously gives two different degrees of elevation.
Optimal pull, also rise pressure release.
The Nexx cervical care device isexcellence-drivenphysiotherapy equipment. 
Nexx provides 4 adjustable temperature settings, comfort the individual preference and apply soothingheat therapyto aching neck muscles.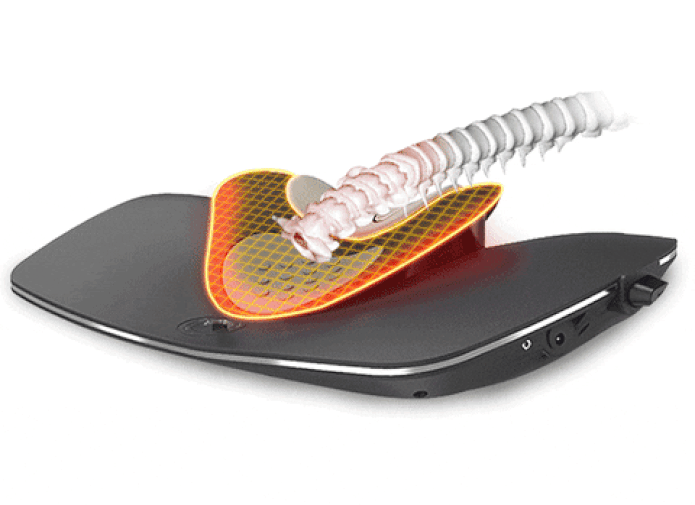 Nexx all in one mode is the real gamechanger!
Combine all 3 at once or adjust the heat and traction with the help of the controller, each function and frequency combination can be adjusted according to the user's own feelings and preferences.
Time to have perfect and ultimate neck massage in your home anytime!